DJ Akademiks is reporting that Young Thug and Gunna have been arrested on serious RICO charges.
Wow Young Thug and gunna caught up in RICO indictment … taken in custody

— DJ Akademiks (@Akademiks) May 10, 2022
The indictment includes charges of conspiring to violate the Racketeer Influenced and Corrupt Organizations (RICO) Act, murder, armed robbery , participation in criminal street gang activity.
.@wsbtv photojournalist & @MarkWinneWSB captured this exclusive image of authorities taking @youngthug into custody earlier this evening. pic.twitter.com/xkD1P17ajw

— Michael Seiden (@SeidenWSBTV) May 10, 2022
The 56-count grand jury indictment charges 28 members and associates of Young Slime Life or "YSL." "YSL's founders were Jeffery Williams AKA "Young Thug," AKA "Slime," Walter Murphy AKA "DK," and Trontavious Stephens AKA "Tick," AKA "Slug."
ERGIO "Gunna" KITCHENS,associate of YSL, is accused of appearing in a video released on social media titled "Fox 5," wearing a "YSL" pendant and a "Slatt" pendant, with lyrics stating "We got ten-hundred round choppers."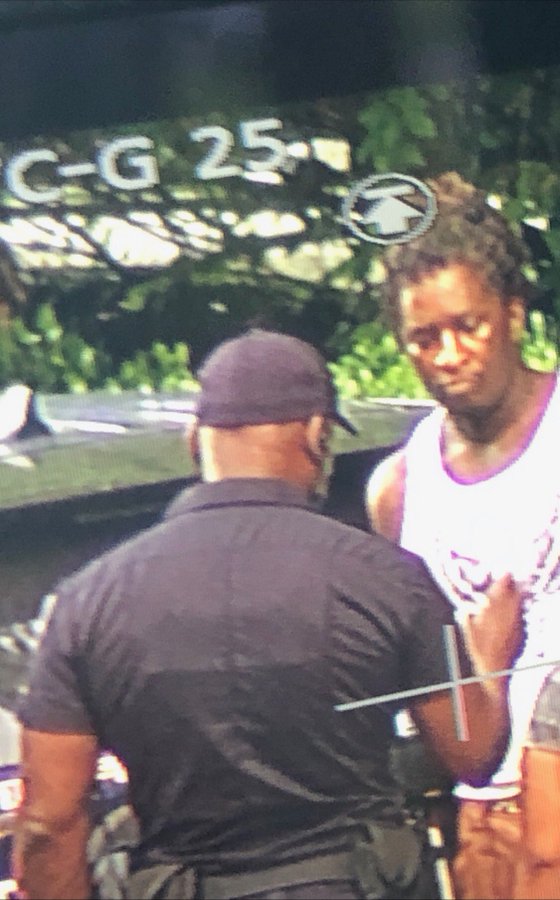 Young Thug is accused of renting 2014 Infiniti Q50 sedan from Hertz, which was used in the commission of the murder of Donovan Thomas, Jr., a rival gang member, on 1-10-15, according to indictment.
BREAKING: Rappers @youngthug ,@1GunnaGunna among 28 defendants charged in 56 count indictment in Fulton County. My colleague @MarkWinneWSB & I have exclusive details. @wsbtv

— Michael Seiden (@SeidenWSBTV) May 10, 2022
This video did not age well pic.twitter.com/q256FQuY0F

— WHATS.A.DEMO❔ (@JimzelHimself) May 10, 2022
It is also being alleged that Young Thug tried to have YFN Lucci murdered in jail as reported by DJ Akademiks.
Prosecutors claiming that Young Thug had dudes in Fulton County jail tryna Kill YFN Lucci.. these allegations in the indictment are wild.

— DJ Akademiks (@Akademiks) May 10, 2022
Prosecutors:
"YSL is a criminal street gang that started in late 2012 in the Cleveland Avenue area of ATL. YSL claims affiliation with the national Bloods gang."

— Michael Seiden (@SeidenWSBTV) May 10, 2022